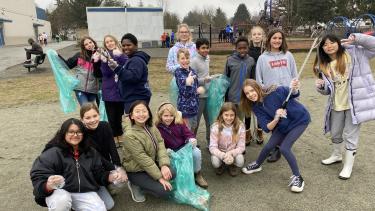 Group of students starts environment club at middle school in Abbotsford
March 25, 2023
The following article was written by Charlotte Clement, a Grade 6 student at W. A. Fraser middle school in Abbotsford.
A small group of Grade 6 students at W.A. Fraser Middle School has created a club that helps the environment.
The club has about 20 members, and educates them that our world needs us to pay attention to the global problems that not only affect us, but the nature and animals sharing this planet.
The Fraser Environment Club has worked hard to keep the school grounds clean as well as sort garbage, compost and recycling in the classrooms.
Around the world, habitats are lost, pollution clouds the skies, and garbage litters the streets. We only have one Earth, and it needs to be taken care of.
Many just decide that they don't need to worry at all about the global environment issues, and few try to take a stand. But for those brave few who have, thank you for your courage.
We encourage everyone to do their part in helping the environment, because it is no longer a problem that can be neglected. We need to act, and the Fraser Environment Club has started.
The founders of the club – Charlotte Clement, Fiona Zhou, Mirella Cervo and Avery Towns – believe that no matter who you are, if you have the courage and determination to pursue your dreams, you can make a change in this world.