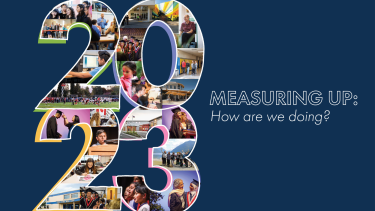 District releases annual Measuring Up report on achievement
February 16, 2023
There is much to celebrate in Abbotsford as the school district remains a provincial leader in academics, arts and athletics, as summarized in the recently released 2023 Measuring Up report.
"Our Measuring Up report is one of the important ways that the Board of Education communicates with the broader community around our successes from the prior school year," said Korky Neufeld, Chair for the Abbotsford Board of Education. "Over the years, we've continued to successfully build on the accomplishments of our strategic plan and its four key pillars - Student Success, Optimized Resources, Engaging Opportunities and Progressive Workforce. We are so proud of the students, teachers, support staff, and senior leadership teams in our school district who continue to commit to our vision of providing a world-class, innovative and individualized educational experience for every student."
The school district's annual report on strategic plan progress - Measuring Up: How are we doing? - was presented by Dr. Kevin Godden, Superintendent of Schools/CEO, at the February 14th public meeting of the Board. Among other things, the report highlighted various projects and initiatives from the 2021-2022 school year, including:
literacy and numeracy achievements;
graduation success and transition to post-secondary;
progressive workforce accomplishments;
IT and communication investments; and
a snapshot of financial revenues and expenses.
"Abbotsford continues to be a high-achieving school district, not just in the lower mainland but across Canada," noted Dr. Kevin Godden, Superintendent of Schools/CEO. "We must continue to work together with parents and the community to deepen student learning and expand learning opportunities for each child in our care. As we look to the future and build on our encouraging successes to date, I am confident that the Abbotsford School District will continue to be a place where all students and staff can learn, grow and thrive."
The complete Measuring Up report, and accompanying video, are available on the district's website.
Media Contact: